Wednesday, November 01, 2000
CST Inc, simmtester.com has announced today its Apollo DDR Memory Tester which support testing the latest DDR memories, it is the industry's first affordable DDR tester dedicated for testing the 184pin PC200/PC266 DDR memory modules.

The Apollo-DDR tester features highly accurate testing at full operating speed, this tester is ideal for companies which manufacture, market, or integrates DDR memory modules into the next generation computer systems

The Apollo "DDR Platform" is build with a universal base which allow user to swap inter-changeable DDR, RIMM & SDRAM test platforms. The patented "Hot Plug" technology allows module to be removed and inserted in the test socket without damaging the tester.

All memory module are tested under "Native environment to emulate true system performance". In simple term it mean memory failures detected in PC environment can be easily duplicated on the Apollo tester. All input function are controlled by a mouse and all display are output to a detachable "240x128 Graphic LCD".

With a simple mouse click , the Apollo-DDR tester will quickly Auto-identify and tell you the Memory size, clock frequency, speed, Registered or Unbuffered memory module. It will even allow you to read and program SPD EEPROM on DDR-SDRAM module. An advanced PC software is also available for interfacing to a PC. The Apollo tester can be interface to CST 's RoboFlex handler for mass volume testing.

The Apollo-DDR Memory tester will be available for volume production by Q1 of 2001 and price starts from $9995.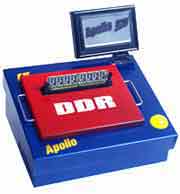 Founded in 1983, CST designs, manufacture, markets and supports computer memory test software and hardware. CST pioneered the first low cost SIMM tester for computers in 1985. Since then, CST testers have become the standard for computer manufacturing industry, holding more than 70% of the market in memory module testers for computer manufacturers and third party memory module manufacturers. With its product lines of memory module tester and handler, CST is equipped to handle all aspects of memory module testing. CST has a comprehensive line of testers ranging from the low-volume service tester to the high-end, high-volume tester. In addition, CST also provides customization for proprietary module test fixtures.

For further information, visit www.DDRtester.com or call our Sales at (972) 241-2662.

By: CST Marketing
Copyright © 2000 CST, Inc. All Rights Reserved